This year, we celebrate our 60th anniversary on Old Forge Mountain. We have thousands of Camp Highlander alumni all over the world, many of whom have continued the Highlander tradition within their families. Each month, we'll profile one family who has come to the mountain for generations and experienced the magic and long-lasting positive effects of camp.
Our family in the spotlight this month are the Mannings. Matt Manning has been with the Highlander family for decades. He is currently on the Wilderness staff and plays at campfire. His son, Matthew "Bug" Manning has attended camp since he was very young.
What has Camp Highlander meant to you? Why have you attended for so long?
As a camper, it meant new experiences and freedom. I only got to come one session for two years, but I loved it. I always dreamed of coming back. I'd look at maps just to see the word Mills River and Pisgah. I loved the wilderness. At home, I surfed, but camp offered climbing and kayaking. It introduced me to mountain biking. As I got older, I realized on top of tangible skills, camp gave me life long friends. Camp also taught me life skills, such as independence and problem-solving. Campfire enthralled me; I am a musician now because of campfire and camp.
How have you seen your son grow from the camp experience?
Bug is following in my footsteps. He loves the wilderness and taking mountain bike trips throughout the year. He is gaining his independence and getting an adventurous spirit. He wants to work in Wilderness at camp through college and then travel the country with a dog, a mountain bike, a van and a camera.
What are your favorite memories of camp as a camper/staff member?
I loved the feeling of rolling a kayak for the first time. Dancing with my crush at square dance, being in the woods. Sneaking out. Toga dances. Campfires. EP's.
Camp Highlander alumni get a tuition discount for each child they send to camp! Register today!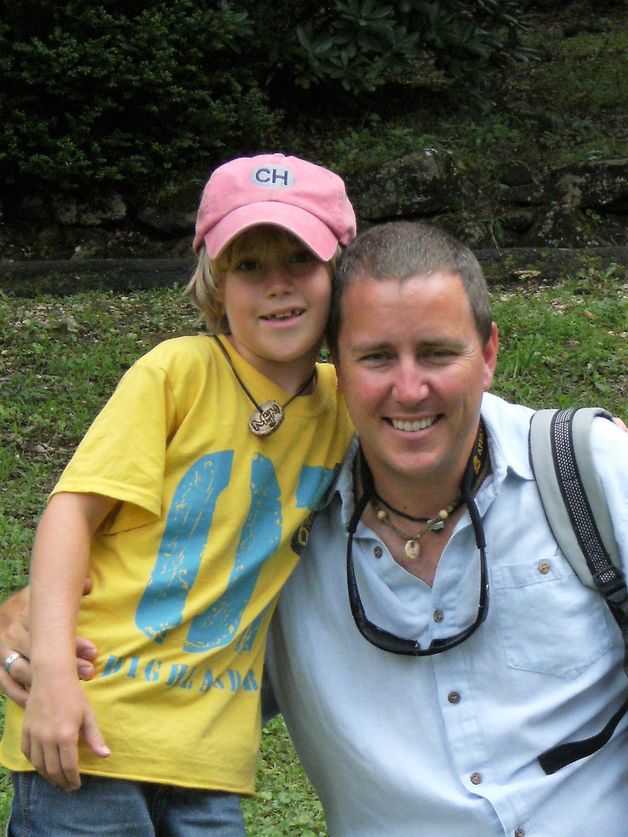 How have you seen camp evolve through the years?
It went from dirt roads to paved roads. A pool was built. And the dining hall keeps getting bigger!
Anything else you'd like to add about camp and your experience?
I'm fortunate enough to get to see my son enjoy it and grow. That is the best thing camp has given me.
Did you attend Camp Highlander as a camper or work as staff and now you send your kids to CH? Tell us your story! Email CH alum, Julia Ade, at today, and you could be our next Highlander Family Spotlight!