2018 Sessions
Whether it's your first summer or one of many, we have the perfect session for everyone.
Camp Highlander will take 10% off the tuition price for multi-session registration. A sibling credit of 5% is available for the second, third, and fourth child from the same family. These credits are not applicable with Family Camp Sessions.
Be sure to check out the the Session descriptions below for ages and more information about each session.
My gratitude begins with the counselors, who from the very first day made my children feel at home."

SelaParent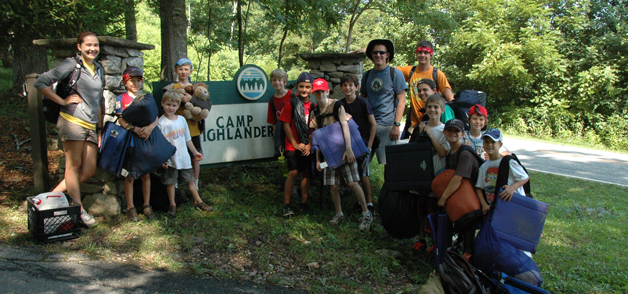 Session A
Ages 6-14
Session A kicks off the summer at Camp Highlander. A two week session, Session A allows campers to participate in all on-camp activities, various off-camp trips, a cabin overnight, and exciting evening programs. Off-camp activities such as whitewater rafting are limited during this shorter session.
Session A is a great experience for new campers who want a taste of the camp experience and memories that will leave you coming back for more!
Summer 2018
Session A – June 17 – June 29 – $3,200
Session B
Ages 6-16
Session B offers all the on-camp activities, off-camp adventures and campwide competition to make an amazing summer camp experience.
Each camper will have the opportunity to participate in all of the on-camp activities at Highlander, amazing off camp trips, a cabin overnight, the 4th of July camp competition, outrageous evening programs and much more. Session B is the ultimate two week camp experience!
Summer 2018
Session B – July 1 – July 13 – $3,200
Session C
Ages 8-16
Session C includes two weeks of camp activities, including various off-camp adventures, cabin overnights and crazy evening programs for our campers. Campers wait in great anticipation for the 5 days of the oldest Camp Highlander tradition, Color War.
During Color War, the camp is split between two teams (Red Devils and White Knights), and the campers and staff participate in a spirited competition.  Color War offers everything from sporting events, educational events, arts events and more, so every camper has a chance to participate and enjoy the fun.
Summer 2018
Session C – July 15 – August 3 – $4,600
Kick Off Camp
Ages 5 -16
Kick Off Camp is the very best of Camp Highlander jam-packed into one exciting week! A great introduction into camp life and a budget/schedule friendly option, Kick Off Camp provides more fun in one week than you can imagine!
Activities include canoeing, kayaking, riflery, archery, horseback riding, climbing, a high ropes course, zip line, the infamous Blob and so much more! Join us for one unforgettable week!
Summer 2018
Kick Off Camp – June 10 – 15 – $1,600