It's finally here, the moment you've desperately been waiting for … our 2017 Junior Camp updates! From exciting new additions on camp to big changes in our programming, we've got a lot to share with you! So, without further delay, let's get to it!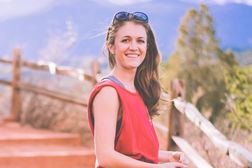 First, say hello to your Junior Camp Head Counselor, Emily! Emily has been with the Highlander family for several years in a variety of roles, but loves Junior Camp so much that she's returning as Head Counselor this summer! With her hard work, love of camp and joyful spirit, we're certain that Emily will make 2017 the best summer EVER for Junior Camp! She's even been creating a unique theme and designing a one-of-a-kind t-shirt JUST for our junior campers!
Now, about those additions to camp, check out the incredibly impressive 'Treetop Deck' in girls camp! We love thinking about all of the unforgettable conversations, the late-night stargazing memories and the beautiful friendships that will blossom up here between the trees!
Meanwhile, in boys camp, we've put in a brand new four square court! It's still not quite finished, but you get the idea! We imagine this will be a popular hangout spot this summer!
As awesome as those new additions are, things will really get exciting for Junior Camp this summer when the sun sets on Old Forge. We've got some new EP's designed specifically for Junior Camp, and we think you're going to love them!
For example, Junior Camp EP fun won't be limited to on-camp activities. One of North Carolina's best kept secrets is our legendary Blue Ghost Fireflies (don't let the name scare you). For only a few weeks each year, and in only a few locations in Western North Carolina, the blue ghost fireflies (given their name because they glow in a mysteriously dim, blueish light rather than the traditional yellow) put on a magnificent show that you truly have to see to believe! And which division will be lucky enough to venture off camp and witness this miraculous event? That's right, Junior Camp!
As if that wasn't enough, we're introducing 'Sundays in the Park', an exclusive, off-camp Sunday afternoon adventure reserved only for junior campers! At least once a session, all of Junior Camp will travel off camp to a nearby park (or, perhaps, the Cradle of Forestry) to soak up the sun, play games and enjoy a special junior camp picnic dinner!
And finally, we're excited to announce that we're bringing back our Little Brother/Little Sister program! Every Junior Camp cabin will partner up with their brother/sister cabin in Senior camp to learn and grow and enjoy the mountain together! Young or old, rookie or veteran, the wonder and beauty of Camp Highlander transcends all generations!
So, there you have it Junior Camp! As always, we will have even more surprises in store for you as the summer progresses, but we wanted to share some of the more exciting updates with you today! We can't wait for the summer of 2017 and we hope you're counting down the days with us!