Believe it or not, the final week of camp is already upon us … it seems like just yesterday we opened the front gates for the first time. But, the summer is not over yet! We still have several days left and we plan on making the most of them!
Color War wrapped up on Sunday and it was a night to remember! Both teams put on incredible performances with their plays and unveiled their impressively constructed plaques. It was the perfect way to wrap up an incredibly exciting and competitive Color War! Congratulations to BOTH teams for all of their hard work, sportsmanship, talent and teamwork! We can't wait for Color War 2018!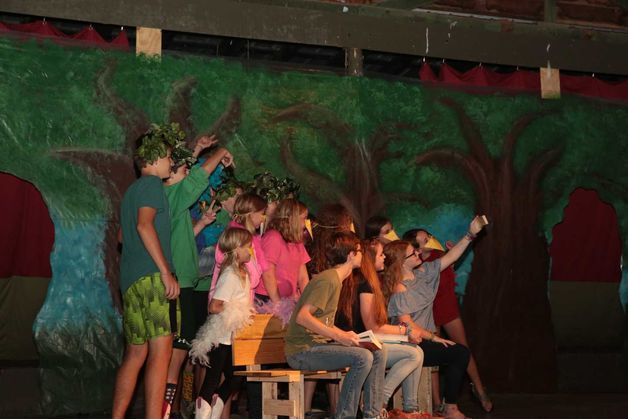 Monday was a much needed day of rest for campers and staff alike. After a morning free of activities, all of camp gathered to relax and watch a movie in the Gillespie Gym. Then it was on to dinner and a special Monday edition of Square Dance! Our male staff surprised our director, Melissa, with a special mealtime serenade in honor of her birthday!
This morning greeted us with crisp and cool weather, not quite normal for the first day of August. Donning long sleeve shirts or light jackets, campers and staff gathered around the bell for Big Mac's 'Reflect at the Rock' message. He told the story of an elderly carpenter who was ready to retire. His employer was sad to see him go as he was an incredibly talented and hardworking employee, but he asked of him one last favor – to build one final house. The carpenter agreed and got to work immediately, but very quickly it became obvious that his heart was not in his work. He began cutting corners and using inferior materials, not double-checking his work or paying attention to the small details. When the carpenter had finished, his employer thanked him for his work and generously handed him the keys to the house he had just built, saying, "This is your house; my gift to you."
The carpenter was shocked and saddened. If he had only known he was building his own house, he would have done it all so differently. And so it is with us. We build our lives, one day at a time, often putting less than our best into the building. Then, with a shock, we realize we have to live in the house we have built. Why not, instead, put our very best into everything we do?
Mac closed his message with, "Your attitude, and the choices you make today, help build the "house" you will live in tomorrow. Therefore, build wisely!"
And with that, we set out to make the most of the days before us! Next up is assembly and then another full day of activities!
Until tomorrow,
One Love